Purdue University Dance Marathon Receives 2020 Donor Stewardship Award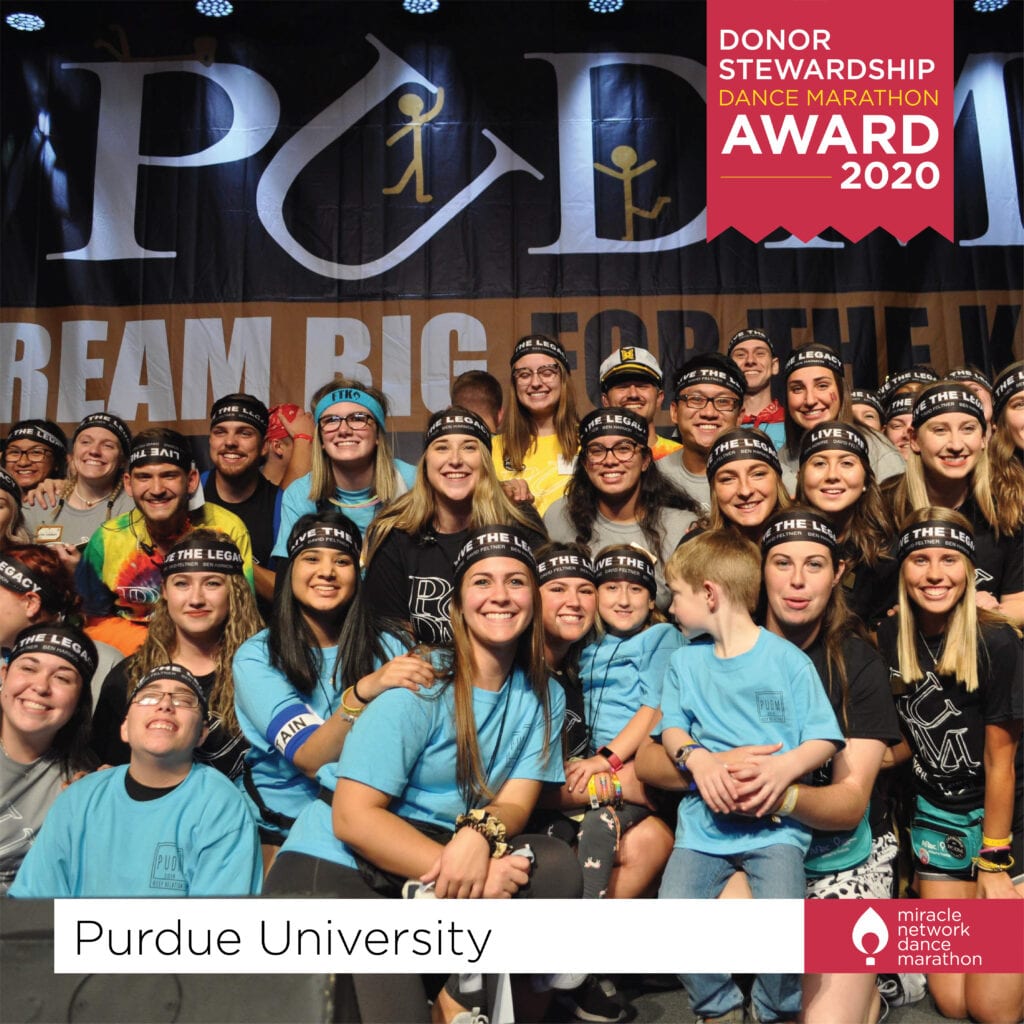 Purdue University Dance Marathon was awarded the Donor Stewardship award at Dance Marathon Leadership Conference 2020. The Donor Stewardship award recognizes a Dance Marathon organization that has demonstrated outstanding donor recognition, re-engagement and communication practices.
Purdue University Dance Marathon (PUDM) has a donor stewardship program called Boiler Society. This past year Boiler Society was revamped with new cause connected giving levels and a new internal system to ensure donors were stewarded throughout the year.
The Boiler Society website states: "Boiler Society is a collective of donors who have contributed $324 or more to PUDM's fight against pediatric illness. These donors have displayed admirable dedication to our cause, and inducting them into Boiler Society is PUDM's way of saying "thank you." Members of Boiler Society enjoy a variety of perks that grow in number as they reach higher ranks, each rank commemorating the critical healthcare services provided by Riley Hospital for Children: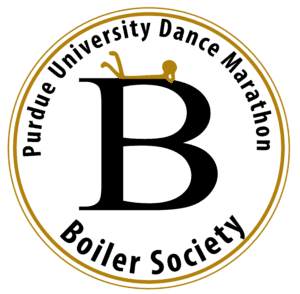 Child Life Champion ($324)
Miracle Maker ($530)
Boilermaker Legacy ($800)
Riley Society ($1,000)"
Each month, donors that qualify for Boiler Society are welcomed via email, thanking them for their support and explaining what Boiler Society is. Then they are sent incentives that correlate to their giving rank. The incentives are items such as Riley Kid artwork, handwritten letters from committee members, videos from our leadership team, and invitations to our marathon stewardship luncheon.
At the Dance Marathon event, there are two main ways that Boiler Society donors are stewarded: the VIP Room and the Stewardship Luncheon. The VIP room is a private room for donors that has food and information about PUDM and the research they fund at Riley Hospital for Children. The Stewardship Luncheon is open to donors who have contributed at least $530. During the luncheon, guests are given a presentation about the impact their dollars have at Riley Hospital. At last year's luncheon, two doctors and researchers from the hospital were invited to speak about the research developments that occurred as a result of donor giving. Before and after the presentation, guests can peruse the silent auction items and bid on them. All silent auction items are donated from local businesses, with proceeds going toward the total fundraised.
Outside of Boiler Society stewardship, PUDM works hard to retain donors from previous years. After large push days or weeks, they contact all donors giving them a recap of the fundraising efforts and the success of the day/week.
As a result of their stewardship initiatives, PUDM has seen many donors give multiple times over the course of one year and continue to give year after year.
---
Miracle Network Dance Marathon is an international movement, involving over 400 colleges, universities and K-12 schools across North America that fundraise for their local Children's Miracle Network Hospitals. Since its inception in 1991, Miracle Network Dance Marathon has raised more than $300 million–ensuring that no child or family fights pediatric illness or injury alone.
Learn more about Miracle Network Dance Marathon:
Facebook – Instagram – Website – Blog – YouTube