Why Seth DeLoach is a Walmart Champion
Walmart Manager, Riley Dad and Miracle Maker
Being a Walmart employee for over 20 years, the Children's Miracle Network campaign has always been important to Seth DeLoach. This cause now means more to him than ever after Riley Hospital saved his daughter's life.
When Reagan was 2 months old she was diagnosed with craniosynostosis—a condition where a seam in the skull closes prematurely. She underwent a three-hour surgery at Riley Hospital for Children in 2014.
The surgery was a success and Reagan is now a healthy and happy kid. Aside from being a Riley kid and supporter, Reagan enjoys playing soccer, singing, and dancing. She loves Moana, Doc McStuffins and The Little Mermaid!
"Miracles happen at Riley," says Seth. "You see these children, the nurses, doctors, everybody is so happy and smiling. They take care of your child, and put you at ease."
Having experienced these miracles firsthand, Seth is very thankful for the donations customers give at the register. These funds directly help Riley.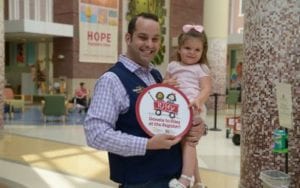 "It is so important for our associates to ask our customers to donate," Seth says." It's because of all of these donations our Walmart customers give that children like my daughter Reagan have a chance for an amazing life!"
Seth continues to be a stellar example of one of the many reasons why Walmart is such a wonderful partner of Riley and CMN.
Thank you to Seth and his family, for all that you do for Riley and Walmart!
Now through July 7, visit any Indiana Walmart and Sam's Club location, donate at the register and support Riley kids just like Reagan. 
Click here to read more about Reagan's story.
For more information, visit BeTheHopeNOW.org and follow us on Facebook, Instagram and Twitter @RileyKids.